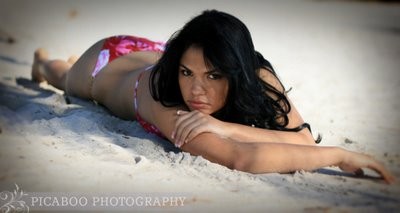 Many of you have been waiting for this boudoir post. Well, wait no more…
What can I say about this gorgeous lady? She's not only beautiful, but smart and funny! She is a model-in-the-making. Ibe, it was really fun to do this outdoor boudoir photo shoot. I wish you the best of luck in the world. You got the talent and, now, the photographer too!!!
All of these pictures were taken in Matheson Hammock Park in Coral Gables, Florida. Most of the shots took place by the famous man-made beach at the park (it's officially a man-made atoll pool). I was a bit nervous during the shoot, as we had to find the right spots and moments to take the photographs away from prying eyes – a real challenge! Thank God we didn't get arrested! Lesson learned: boudoir + outdoor = a real challenge!